Introduction of High-Pressure Filter Press:
In view of the characteristics of wastewater and requirements of the filter cake from the stone industry(marble, granite, etc.), kaolin, ceramic, and construction materials, we designed the high-pressure round filter press that can bear high pressure as high as 2.0 Mpa, and get very dry filter cake and very low moisture.
High-pressure circular filter press is a solid-liquid separation equipment using a circular filter plate, mainly used in the ceramic industry, stone wastewater treatment, kaolin, building materials, etc. In addition, it's high pressure increases processing capacity, improves work efficiency, and reduces moisture in solid materials.
Usually, the filter plates of the high-pressure filter presses are round, while there are some 800*800 or 1250*1250 mm square filter plates; usually, pressure can reach 0.8 -1.0 Mpa. Round filter plates are thicker than common plates, and the thickness is 60-70 mm for our standard round filter plates.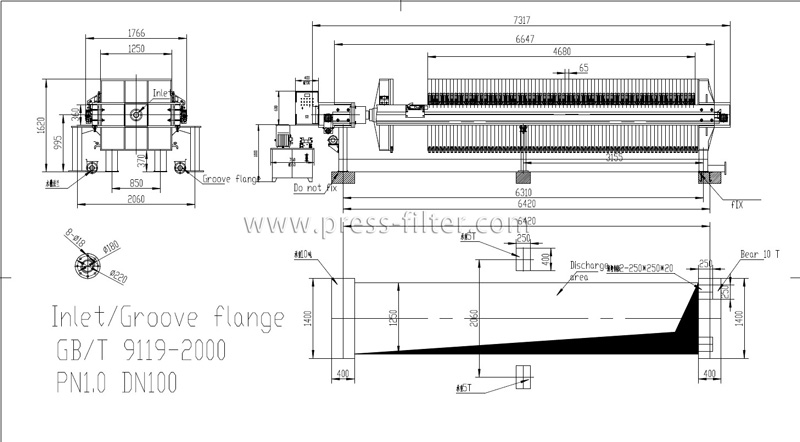 High-Pressure Filter Press Filter Press Working Principle:
The high-pressure round filter press mainly uses the pressure difference on both sides of the filter cloth to achieve solid-liquid separation. When working, the compression device will push the compression plate to compress the filter plate and filter cloth between the compression plate and the thrust plate, thus forming a closed filter chamber. After that, the material will enter each filter chamber through the feed hole on the feed pump and the thrust plate. As the material continues to enter, the solid particles are trapped in the filter chamber to form a filter cake. The liquid, under the action of pressure, penetrates the filter cake and filter cloth and is discharged out of the body through the liquid outlet hole.
Detail Photos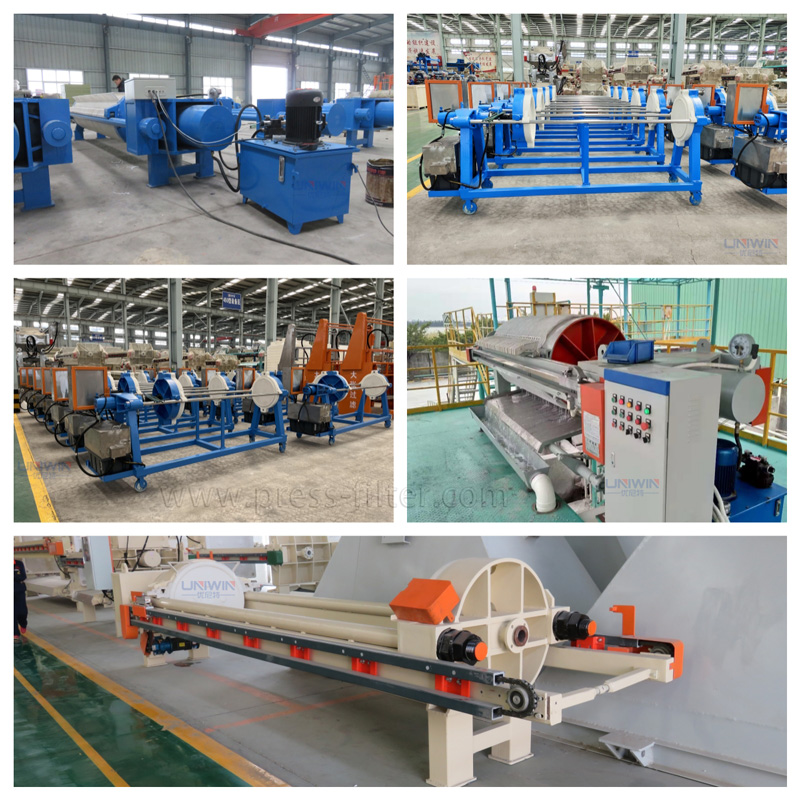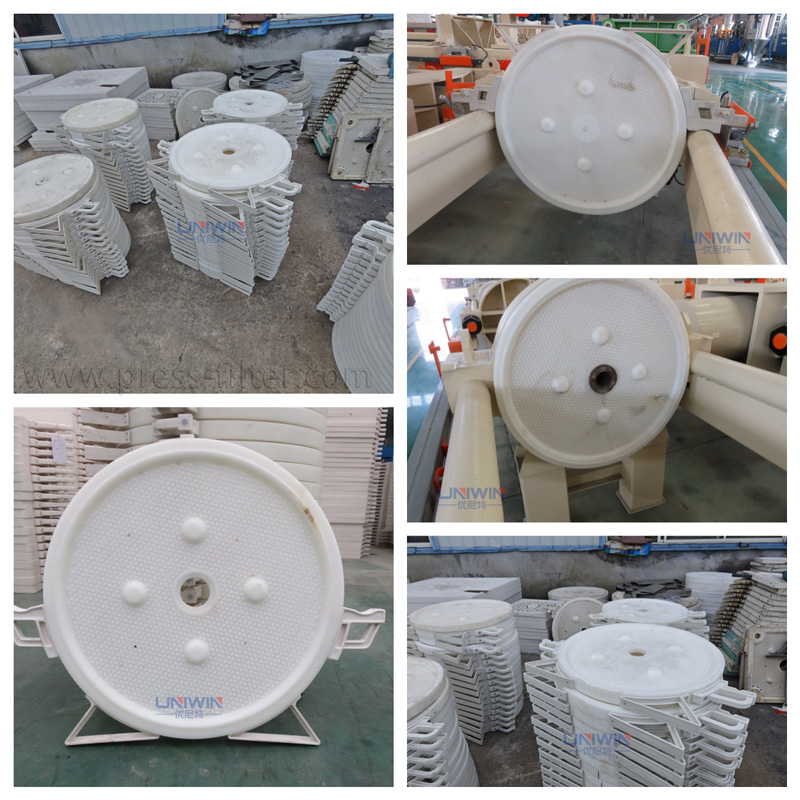 Parameters:
Model
FilterArea(m2)
Plate size
cake thickness
Plates quantity
Chamber volume(L)
Filtering pressure(Mpa)
Deimensions(mm)
Weight(kg)
RFP20/800-25
20
Φ800
25
20
255
1.0-2.0
3300*1100*1060
3346
RFP30/800-26
30
Φ800
25
30
377
3780*1100*1060
3590
RFP40/800-27
40
Φ800
25
40
499
4300*1100*1060
4554
RFP50/800-28
50
Φ800
25
50
621
4820*1100*1060
5150
RFP60/800-29
60
Φ800
25
60
753
5340*1100*1060
9710
RFP70/800-30
70
Φ800
25
70
875
5860*1100*1060
5760
RFP80/800-31
80
Φ800
30
80
1200
6400*1100*1060
6860
Features of High-Pressure  Filter Press :
The round filter plate is resistant to high pressure, and the moisture content of the filter cake is low.
Stable operation, high feed pressure.
High unit output and long life.
Customer Visiting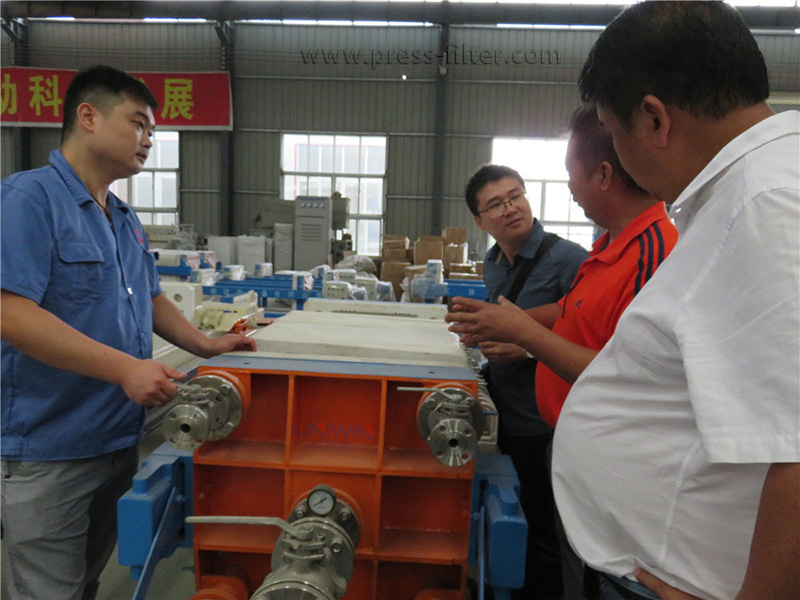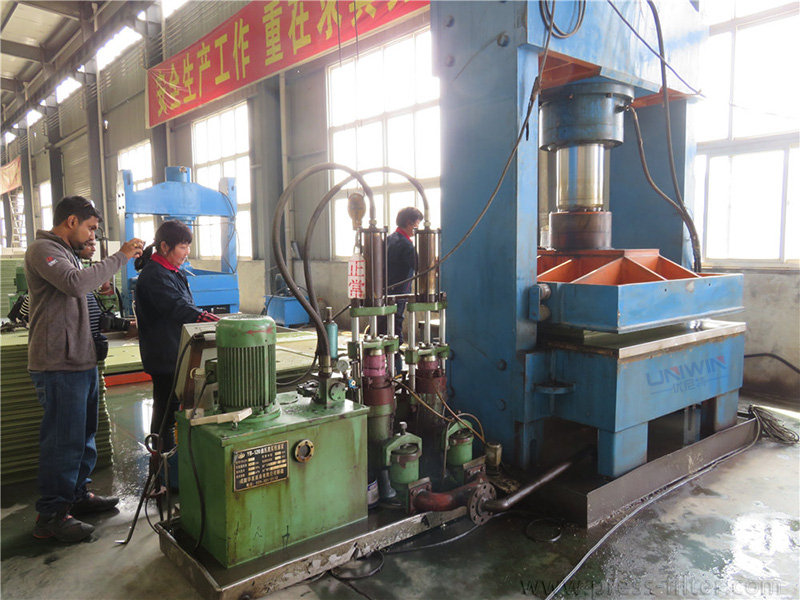 Packging&Shipping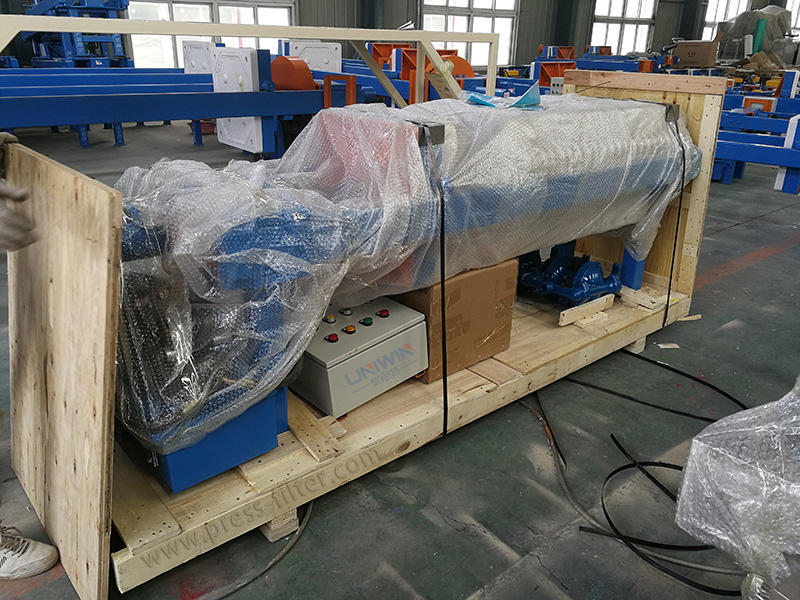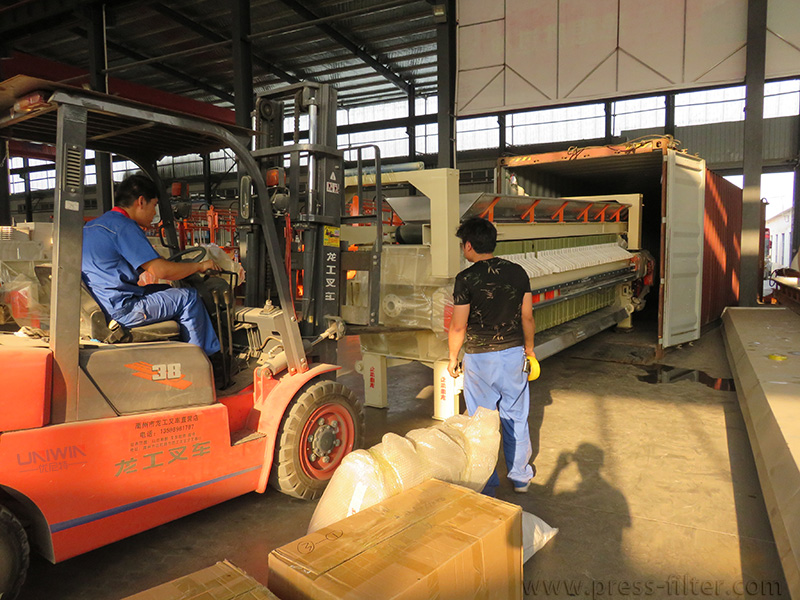 High-pressure filter presses applications
1. Mining and metallurgy: High-pressure filter presses are utilized for dewatering and separating minerals, ores, and metal concentrates.
2. Chemical processing: They are employed in the chemical industry for the clarification of chemical solutions, separation of reaction products, and recovery of valuable materials.
3. Pharmaceutical manufacturing: High-pressure filter presses play a crucial role in pharmaceutical production processes, such as the purification of active pharmaceutical ingredients, removal of impurities, etc.
4. Food and beverage: These filter presses are applied for the separation of solids from liquid food products, such as juice clarification, removal of particulates, and purification of edible oils.
5. Municipal wastewater treatment: High-pressure filter presses are commonly used in wastewater treatment plants for dewatering sludge and reducing its volume before disposal.