Introduction:
In view of the characteristics of wastewater and requirements of the filter cake from stone industry(marble,granite etc),kaolin,ceramic,construction materials,we designed the high pressure round filter press that can bear high pressure as high as 2.0 Mpa ,and get very dry filter cake and very low moisture.
Usually the filter plates of the high pressure filter press is round ,while also there are some 800*800 or 1250*1250 mm squre filter plates ,usually pressure can reach 0.8 1.0 Mpa.Round filter plates is thicker than common plates and the thickness is 60-70 mm for our standard round filter plates.
The following is a typical drawing of the marble stone factory to process the wastewater: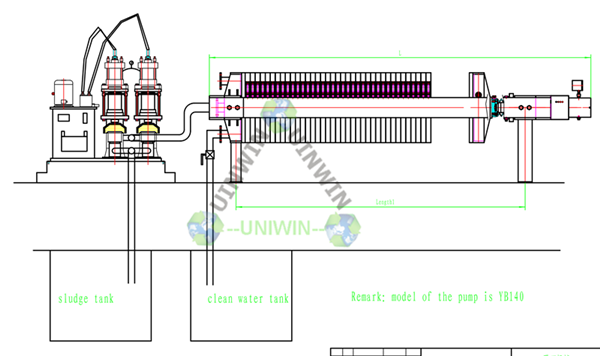 Working Principle:
The working principle of round filter press is same as the chamber filter press,please refer to filter press working principle.
Parameters:
For round plate filter press,our general specifications are:
800 round filter press(high pressure)
Filtering area:20-100 m2
Filtering pressure:1.0-2.0 Mpa
Model
Filter
Plate
cake
Plates
Chamber
Filtering
Deimensions(mm)
Weight(kg)
Area(m2)
size
thickness
quantity
volume(L)
pressure
RFP20/800-25
20
Φ800
25
20
255
1.0-2.0
3300*1100*1060
3346
RFP30/800-26
30
Φ800
25
30
377
(Mpa)
3780*1100*1060
3590
RFP40/800-27
40
Φ800
25
40
499
4300*1100*1060
4554
RFP50/800-28
50
Φ800
25
50
621
4820*1100*1060
5150
RFP60/800-29
60
Φ800
25
60
753
5340*1100*1060
9710
RFP70/800-30
70
Φ800
25
70
875
5860*1100*1060
5760
RFP80/800-31
80
Φ800
30
80
1200
6400*1100*1060
6860