Introduction of DU rubber vacuum belt filter:
DU rubber vacuum belt filter is one kind high technology solid-liquid separation equipment,it is improved on the germany technology based on the expert of Chinese filteration association that hired by our company.It has the advantages of fully automatic,24 hours working,good filtering and dewatering result,automatic feeding and cake discharging ,automatic filter cloth washing etc.
It is mainly consists of :
1,Main frame
2,Rubber belt
3,Drive reducer
4,Vacuum box
5,Filter cloth
6,Liquor drainage can
7,Vacuum pump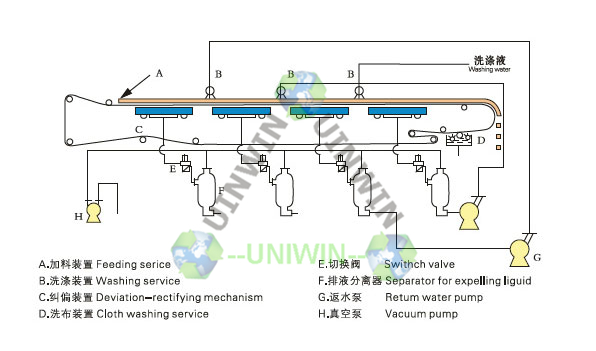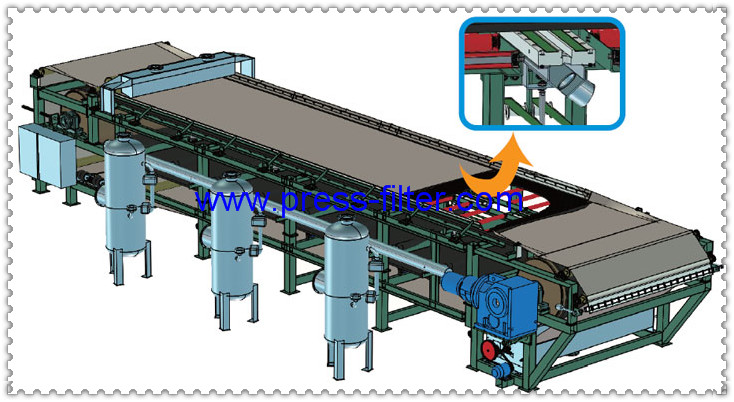 It is widely used in coal mining,fine coal washing,copper mining,citric acid production,fly ash dewatering,food and chemical industry, metallurgy.
The application working sites of our vacuum belt filter:
Some tipical applicitations of the vacuum belt filter:
| | |
| --- | --- |
| Citric Acid | Miscible liquids of sodiumhydroxide and CUS |
| Zinc Oxide | ABS resin |
| Mining slurry soaked by Mno reductico acid | Calcium Phosphate Ore Magma |
| Ferromagnet | Soluble Phosphor Fertilizer |
| Sulphur mine | Vitriol dirt |
| Copper mine | Aluminous rocks |
| Mine remaining part | Caustic mud |
| Iron-stone | Residue silicon of aluminium sulphate |
| Manganite | Fermentated liquid of gentamicin |
| Aluminium Hydroxide | Coarse zinc oxide |
| Aluminium Hydroxide | Fluoride-bearing calcium lime |
| Caustic mud | Ammonium Salt |
| Vanadium Oxide(V2 O5) | Sodium silicofluoride |
| Coal ash | Wet cement |
| Gold mine | Fine coal of coal dressing |
| Sub-ammonium tungstate | Tail coal of coal dressing |
| Organic nitrous dye-stuff | Zinc Sulfate Ore Magma |
| 4A zeolite | Agate seed |
| Finished agate | Silica residue |
| Baeyer aluminium hydroxide seed | Desulfuration Gypsum |
| Boehmite | Coal mining |
Our clients from foreign countries: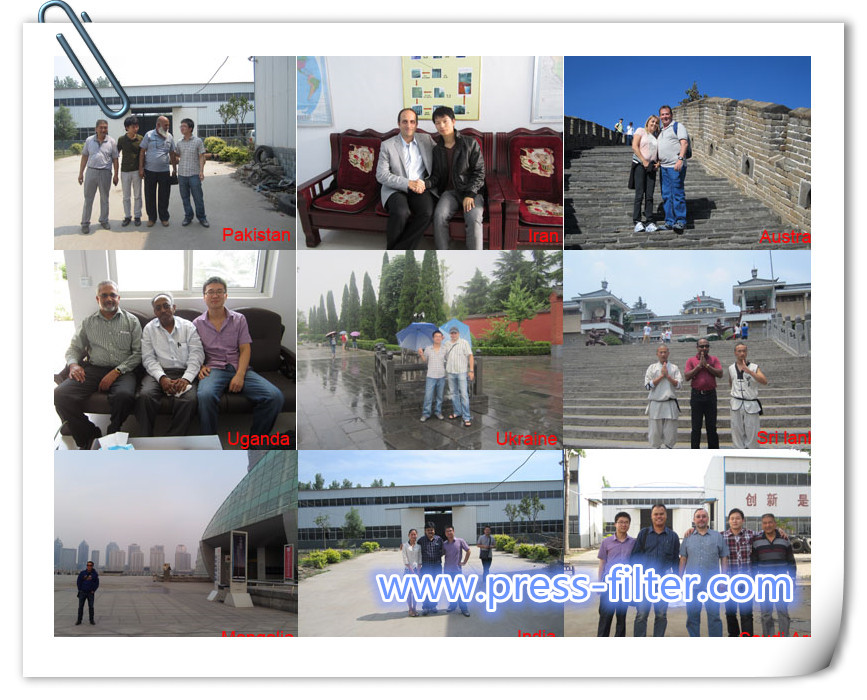 Working Principle:
The principle of the horizontal vacuum belt filter is through the suction of vacuum pump to achieve the aim of dewatering.the sludge is deliverd on the filter fabric by the feeding system,the filter cloth,which is driven by the rubber belt,with horizontal notches and holes on it,this enables the filtrate can be sucked into the vacuum box,then the filtrate and the gas are mixed in the vacuum box and then been transferred to the vacuum filtrate pipes.
After this,the filtrate and gas was separated in the gas-water separator,the gas-water separator was connected with the vacuum pump to pump away the gas,and connected with the filtrate collection tank at bottom of gas-water separator.
The sludge forms the dewatered filter cake after passing the forming zone,washing zone and drying zone.and discharged at the end of the filter belt and then transferred to the destination by the conveyor.
Parameters:
Width
1000mm
1500mm
2000mm
2500mm
3000mm
Length
Filtering
Weight
Filtering
Weight
Filtering
Weight
Filtering
Weight
Filtering
Weight
area
(kg)
 area
(kg)
area
(kg)
 area
(kg)
 area
(kg)
3000
3
3700
4.5
4300
6
4900
7.5
5700
9
6300
4500
4.5
3890
6.75
4525
9
5160
11.25
6000
13.5
6640
6000
6
4080
8
4750
12
5420
15
6300
18
6980
7500
7.5
4270
11.25
4900
15
5680
18.75
6600
22.5
7320
9000
9
4460
13.5
5050
18
5940
22.5
6900
22.5
7320
10500
10.5
4650
14.75
5275
21
6200
26.25
7200
31.5
8000