Introduction:
Filter press is a common used filtration and separation equipmentIt has been widely used in the chemical production in the early 18th century and now is widely used in chemical industry pharmaceutical industry metallurgy industry dyes industry food factories brewing ceramics and environmental protection industries.
Its main structure is :framefilter platesfilter clothhydraulic stationPLC electric control system.The filter plates and filter plates frame forms the chamber the sludge (slurry)is pumped into the chamber and with the pressure filter cake will be formed in the chamber and filtrate will flow out through the outlet of the filter plates.
The automatic filter press is batch operationwhich  means that the operation must be stopped to discharge the filter cake before the next batch can be startedone filtering cycle usually takes from 20 minutes to 3 hours depending on the different characteristics of filtering material.There are 3 types filter pressie recessed filter pressplate and frame filter press and vertical filter press.our filter plates have the advantages of stable permanceeasy operationaccurate sizecan endure high pressure and high temperature.
The size of our filter plates size are: 320 450630800100012501500 and 2000 mm. we can also custmize the size of the plates depending on clients requirements.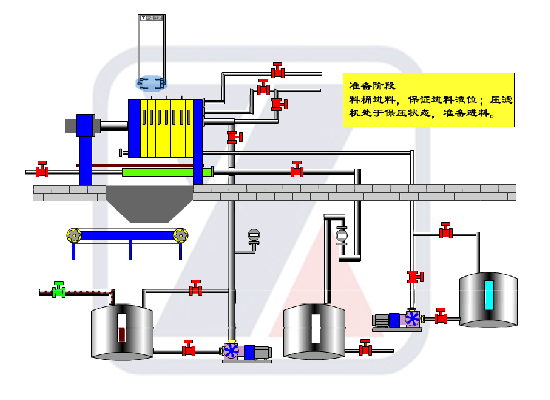 Working Principle:
The process of one batch filtration is:
(pressing—feeding material—filtering—discharging cake)
1- Closing of the filter plates: when start the press button on the PLC control cabinet the moving head plates will be activated by the hydraulic calmps the plates.
2- Filling:The sludge (or slurry) will be pumped into the chamber one by one.when all chamber is full of filter cakethe filtration is finished.
3- Filter opening: The moving head is drawn back to disengage the first filtration chamber. The cake falls will drop from the plates because of gravity. The auto pulling system pulls out the plates one by one.
4- Washing: Usually for washing of clothes should be carried out every 15-100 batches.